MOSES has now retired.
Moses is our brown abstract stud.
He is a gentle, loving boy who,
despite his size, 28 inches tall and weighing in at 68 lbs.
would like to be a lap dog.

Moses puppies are all in loving homes
many of the owners email me updates regularly

MAGGIE
"Maggie is absolutely spoiled rotten (sleeps with us now), but such a sweet heart.
All of our friends love her and talk about what a great dog she is.
Obviously she had great early parenting by you!
Tom takes her with him almost everywhere he goes!
He calls it "Driving Miss Maggie".....
she hops in the back of his truck, sits up on the seat and looks like
a big black princess dog! Thanks again! Hope you are doing well,
and just wanted you to know that Maggie is a VERY happy dog!!! (and so are Tom & I)"
LOKI
"I can't begin to tell you much I love him,
he has totally changed my life. My kids are coming in next week
for spring break and I am looking forward to them
meeting and see what he thinks. So far,
I am still his favorite person!"
MAXINE
"Hi Judy! She is doing so great!! I can walk her and now without her
lease and she walks right beside me. We have not had professional training either.
She mostly just likes to lay around the house, ha! Who wouldn't.
She is sooooo good with the girls and all their friends.
We are still very grateful to have her."

MR.FRENCH
"French has been such a joy and he is the spoiled baby around here by everyone.
I have met at least five standards here since we got French
and he by far is the the best looking. When we take
him to the pet store he is the star everybody loves him
he is so tall and studly. He is so well behaved
no aggression towards people or dogs. He fetches,jumps for treat,
sits, lies down,tug of war gentle mouth. He's the best
you have no idea how much happiness he has brought to our lives. Thank you!"


I have more on the others but I think that's enough
Moses certainly passes his personality on to his pups
the gentle giant that he is.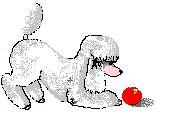 Moses and Daisy pups 2008
knightjk@comcell.net
Judy & Jim Knight
16532 State Highway 148 S
Henrietta, TX 76365-7200
Physical location JOY,TX
United States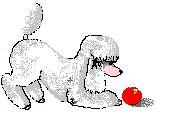 HOME