MEET GAUGE
Aniwaya Twelve Gauge for Sandyoaks
Gauge is an awesome boy, such a calm big boy, very loving
Meets strangers with a bark or two then accepts them, he's a
gentle boy and things just don't excite him and I love this about him
Gauge is 30 inches tall and weighs 68 lbs. We are looking forward to his
pups, I just know he's going to through his personality into them.
Our Granddaughter visited in August 2013, Gauge loves her
he walked beside her everywhere she went. She is ten years old and
average size you can see Gauge is a tall boy.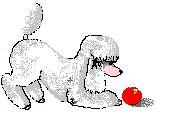 HOME