J'KNIGHT'S SILVER BULLET
Although big and broad at 75 pounds and 27 inches tall,
Bullet is the most loving and friendly young man. His mission in life
is to shower love and affection on all those around him. His willingness
to lavish those around him with kisses, tail wags and cuddles always brightens everyone's day.
knightjk@comcell.net
Judy & Jim Knight
16532 State Highway 148 S
Henrietta, TX 76365-7200
Physical location JOY,TX
United States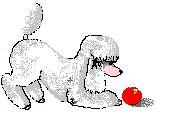 HOME